Lights, Camera, and Push-To-Talk: Why RCA Has the Best Two-Way Radios for Film Sets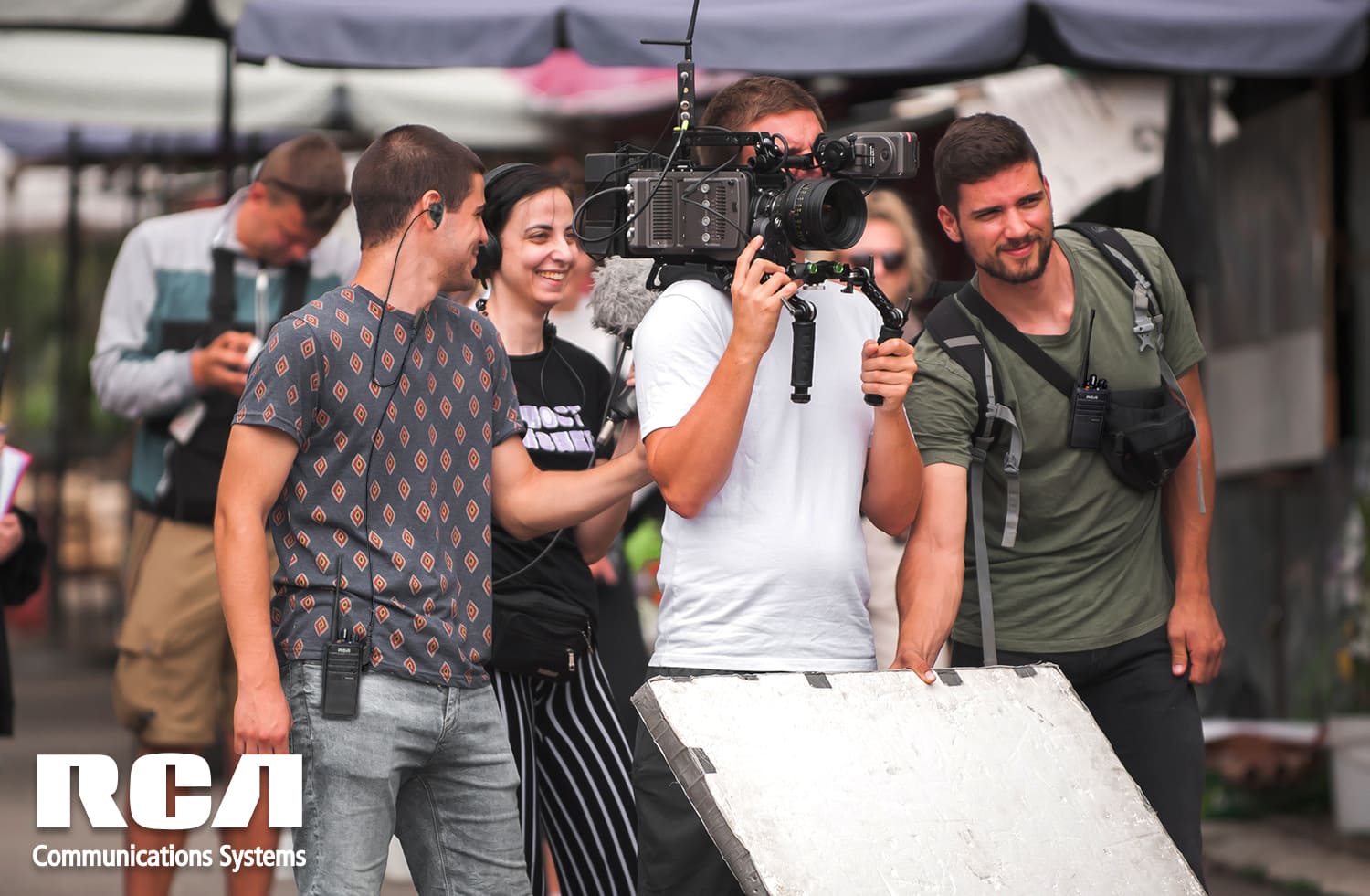 What's the best film that you've seen recently? Do you think about what kinds of communication equipment were used to keep all of those actors, extras, and production crew organized and in place at the right time to shoot? You may even have customers from film studios already. We're here to tell you that if they aren't using RCA's best two-way radios for film sets, they're missing out. Here are the reasons why RCA is the preferred choice for film crews, and the models you can use to encourage more studio business.
Reason #1: Instant Communication
With the sheer volume of work that goes into any Hollywood production, any time lost comes with a heavy price tag. During a film shoot, no one has the bandwidth to keep pulling out their cellphones to dial team members to make adjustments to lighting, sound, or set design. They need instant, reliable communication. That's why two-way radios from RCA are the ideal solution: they offer extended coverage and crystal-clear audio so that crewmembers are able to hear each other without interference in order to relay important directions, get confirmation those directions were received, and hear back as soon as they're completed.
For team members who are constantly on the move, we'd recommend RCA's RDR2500. It's our line's most popular model, and with good reason: not only does it have the coverage and sound quality mentioned above, it also offers world-class durability, performance, and extended battery life for all-day filming.
Reason #2: Diverse Radio Options
The best two-way radios for film sets also anticipate large on-location shoots. Crews that are coordinating a scene filled with multiple people across a wide area can use repeaters to extend their available coverage. This improves the operations of their handheld units (like the RDR2500 above) as well as base stations.
When it comes to repeaters, we recommend that you show them RCA's RDR9000. It supports mixed-mode, analog, digital DMR, conventional and simulcast, and takes a third of the rack space required by models from other radio lines.
As for base stations, you can't go wrong with RCA's latest achievement, the RDR2750. This five-watt compact base station is powerful for its size, easier to set up than traditional units, and ready to use as soon as you plug it into an outlet.
Reason #3: Durable Against the Elements
Two-way radios for film sets may be required to handle several types of inclement weather. (Not everything's CGI, after all.) Crews can encounter any number of conditions, sometimes intentional to the plot. That means their radios must be rain and shock resistant at minimum.
If they also happen to be filming around flammable materials like dust, gasses, fibers and vapors, then they definitely need IP-rated industrial two-way radios like RCA's RDR4200 series. These offer military-grade durability against the toughest on-the-job conditions.
Reason #4: Quiet on Set
The instant radio communication that crew members depend on usually comes with two additional requirements: that it can happen while they're multitasking, and that it's quiet enough not to interfere with others working around them.
That's why two-way radios for film sets perform better when they're coupled with earpieces and holsters. That way, workers can use easy push-to-talk buttons and keep their hands free to handle heavy lifting and multitasking. At the same time, they're able to keep their radios securely fastened to avoid unnecessary drops, scrapes, and other wear and tear.
RCA has the best options on the market when it comes to reliable earpieces. These maintain optimal sound quality and help filter out background noise, while still allowing workers to hear — and be aware of — their surroundings.
Note: Film crews often appreciate that two-way radios offer different channels. These can be assigned based on each team's responsibilities to avoid cross chatter.
Can You See Your Radios in the Movies?
Whether they've got a starring role in an actor's hands, or they're operated entirely behind the scenes, two-way radios for film sets are essential! If you don't already market to production companies, now's the time to start! And if you don't already offer RCA two-way radios, now's your chance to join us!
The RCA line has seen unprecedented sales growth over the past year, and we want to share that success with you! Despite the pandemic and hiccups in the supply chain, we've been able to maintain a great deal of available inventory that can ship as early as the day it's ordered. Any models we don't have in stock will still ship sooner than any radio line.
Ready to become an official RCA reseller? You can fill out an enrollment request, or feel free to give us a call at 855-657-0090 to start that process. It's risk free, takes a matter of minutes, and gives you immediate access to inventory you can order over the phone, or through our convenient dealer portal.