Become Their Dealer of Choice: The Best RCA Two-Way Radios for the Hospitality Industry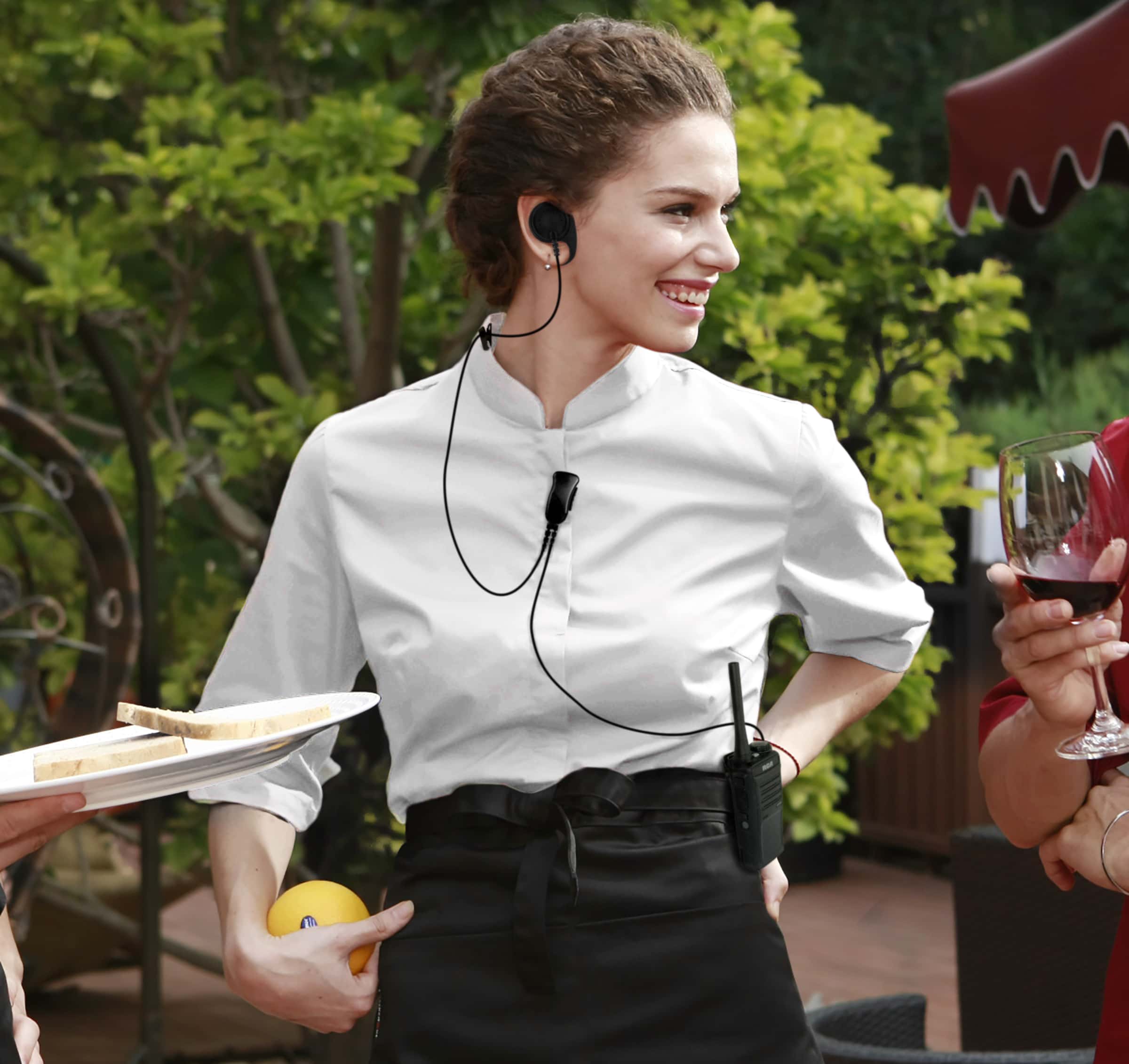 Restaurant and hospitality workers know how important customer service and guest satisfaction are to the longevity of their businesses. That's why they rely on two-way radios (not commercial walkie-talkies) to ensure that their daily operations are effortless. If you aren't the dealer of choice for these types of companies, now is the time to talk about becoming one. Here are the best RCA two-way radios for the hospitality industry.
RCA's RDR2500
This industrial two-way portable is the workhorse of the RCA line. It offers the optimal balance of battery life, performance, coverage, sound, and durability — all at a price point that customers can easily afford. We even refer to it as a high-tier radio at a mid-tier price.
Note: RCA has made it its mission to offer world-class quality at the most affordable prices for all of its units. Don't believe us? Name a model from any radio line, and we'll not only show you one from RCA that goes toe-to-toe with it, we'll demonstrate how much your end users will save by choosing us.
The RDR2500 is perfect for service workers who are constantly on the move. Hostesses and servers can use them to coordinate large groups and parties, get in touch with managers, and touch base with kitchen staff regarding specific orders.
Hotels benefit from them, too. Guest service agents, housekeepers, bell staff, valet, room service, and maintenance engineers all depend on immediate communication to ensure flawless experiences for guests, or to identify and correct any problems that may happen during their stays. Then there's the matter of on-site security for those hotels and resorts that are big enough to require them.
When immediate assistance is only one push-to-talk button away, why would these workers want anything less than a powerful two-way radio?
RCA's RDR2750
This compact base station has been a gamechanger for the RCA line over the past year for two reasons: first, because it's a unit that is small enough to fit conveniently on any workstation, or mount to any space where an AC outlet is available; and second, because it's exceptionally powerful in spite of its ultra compact size. Operating at five (5) watts, it offers the same coverage as any handheld unit.
Its ability to be mounted to any surface offers more than simple convenience — it also deters theft. Plus, customers love the fact that they don't have any batteries to recharge in order to use this base station like they would with portables. Just plug it in, and it's ready to use! Staff members improve efficiency without any complicated installation.
The RDR2750 is ideal for workers who share office space, or don't move around as much as those who would need handhelds.
Who benefits from base stations in the hospitality industry? Restaurant managers come to mind, and these units work well in break rooms.
This is also a perfect radio for hotels, especially when used by PBX operators. Full-service properties are known to use private branch exchange phone systems that include multiple inbound and outbound lines, and are often managed by one or more operators. These operators not only route calls on the system, they can also be invaluable for communicating with maintenance team members and housekeepers to address guest-related issues, requests, and complaints. The stationary nature of their work means a mounted base station is perfect for their needs.
RCA's BRM300D
Mobile radios have also been a hot commodity over the last year, and this RCA model has been no exception. Similar to other types of industrial two-way radios, this unit offers world-class quality in terms of performance, durability, and sound quality.
But, you may ask, what do mobiles have to do with hospitality? Restaurants may have no need, but large enough resorts definitely do, especially for the vehicles they use for security. Our units are discreet and powerful, offering convenient installation and maximum coverage for any vehicle type.
Accessories
For those customers who purchase portables, don't forget to highlight the importance of accessories like holsters and earpieces. Both offer easy upsells that demonstrate your commitment to the longevity of your products, and generate trust by showing your customers that you want their models to last.
RCA offers premium-quality holsters and earpieces for all of its portables, many of which are compatible with other lines.
Supply Chain
We mentioned that mobiles have been a hot commodity, and this may have been influenced by the backorders that other radio lines have experienced over the last couple of years. RCA is proud of the fact that we've been able to maintain the fastest fulfillment times in the industry, both to our current dealers and those who decided it was time to add us as a secondary line.
As hospitality and restaurants have adapted to a post-COVID world, we've been there to help. Many of our dealers saw how important two-way radios became for cleaning crews and emergency response.
Today's technology is also paving the way for hotels and restaurants to improve their services and "upgrade the customer experience," notes Minnie Inno — whether that's through food production, automation, health and safety, or inventory management. All of these areas depend on immediate, reliable communication, and two-way radios have always served this need better than any other tool.
Become an RCA Dealer
If you aren't already an official RCA reseller, we hope you'll consider joining. We offer a convenient signup process that gives you immediate access to available inventory, much of it also able to ship the same day it's ordered. These units allow you to grow your sales margins even more, while still doing what you do best — being the dealer of choice for your area.
Let us show you why so many others have chosen RCA, whether as their primary or secondary line. When you're ready to learn more, give us a call at (855) 657-0090 to start that process.
Already a Dealer?
We appreciate having you as part of the RCA family, and we look forward to the success we'll share in 2023. Don't forget to take advantage of our convenient dealer portal to access inventory, pricing, invoices, spec sheets, and more. Or, if you prefer to do things over the phone, don't hesitate to give us a call at the same number above — (855) 657-0090 — to discuss those items and place your next order.