3 Reasons To Get Your Portable Two-Way Radios From RCA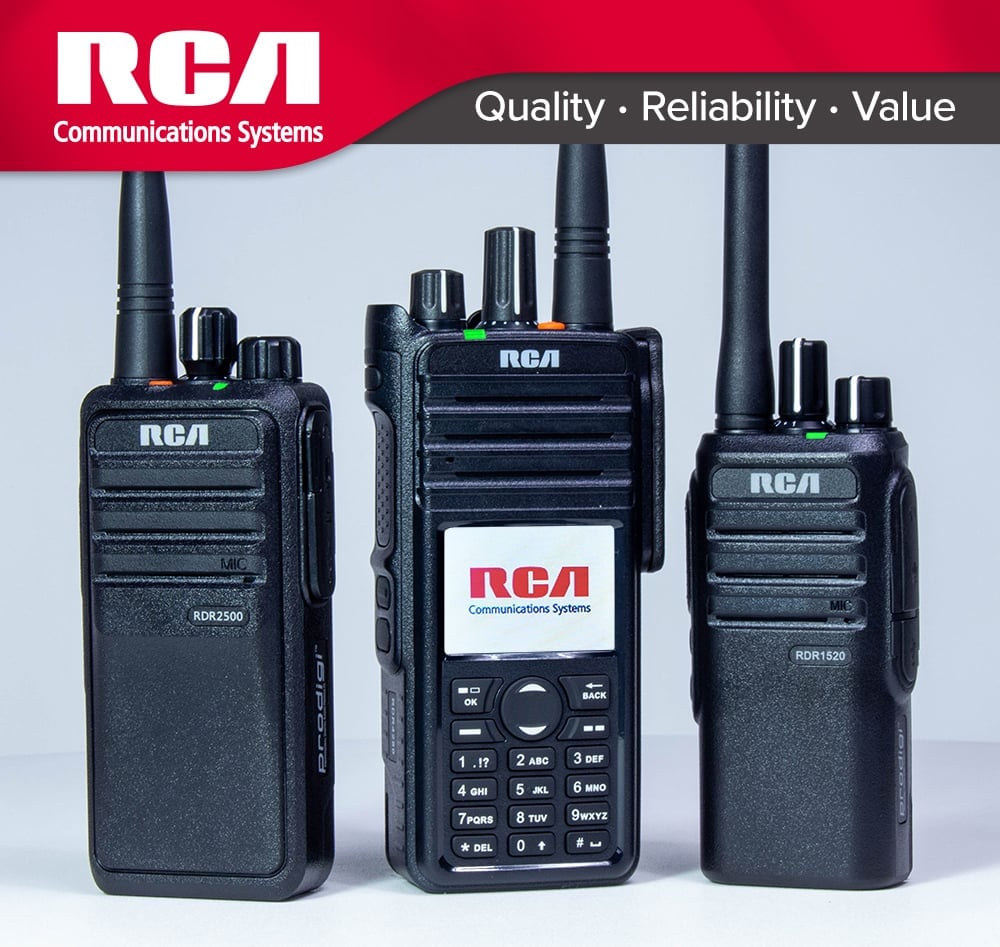 If your customers are tired of waiting on backorders of portable two-way radios, we have great news: RCA has plenty of these models in stock! Current RCA resellers need only give us a call or log into our dealer portal to place an order. For those who aren't, here are three reasons why we think it's time that you should become one.
Reason #1: RCA's Entry-Level Model, the RDR1520
Are your customers looking for a cost-effective portable that's entry level but still high quality? Look no further than the RDR1520.
In fact, there are only three main differences between it and other models in the RCA line: it offers slightly less power, doesn't come with a screen, and maintains a lower ingress protection (IP) rating. But these are small sacrifices against the benefits of its lightweight, durable design, especially for industries like education and hospitality — or, generally speaking, any office-based employment.
While you can see a full breakdown of the RDR1520's specs and features, it's worth noting that this model maintains excellent coverage at three watts, as well as crystal-clear audio thanks to X-Sound+. Its IP54 rating means it'll hold up well against limited exposure to dust, water, and other contaminants. Plus, many customers don't mind that these units lack screens when they're looking for a basic design that couples well with earpieces, headsets, and holsters.
Reason #2: RCA's Mid-Tier Series, the RDR2500s
If you're familiar with the RCA line, you've probably heard of the RDR2500 and RDR2550. The former is our standard model, while the latter is upgraded and comes with a 16-character display and seven programmable functions. This series is consistently the most popular one that we offer, and it's easy to understand why.
The RDR2500 and RDR2550 both have exceptional coverage, whether it's across wide open spaces or multiple floors in a single building. They can be bumped or dropped several feet without sustaining damage to either their chassis or performance. They offer X-Sound+ like the RDR1520, and maintain superior battery life by easily surpassing 12 hours on a single charge — even longer if your customers are interested in its ultra-high-capability battery upgrade.
In short, the RDR2500 series is arguably the perfect balance of world-class quality, performance, and affordability.
Reason #3: RCA's High-End Series, the RDR4200s
If your customers need the most powerful, heavy-duty handheld radios on the market, you need to show them the RDR4200 series. All of its models — the RDR4220, RDR4250, and RDR4280 — are intrinsically safe and rated IP67. For reference, that means they meet the military specs for durability, vibration, and shock resistance, as well as the required protection against flammable vapors and gasses, dust, and fibers.
Customers appreciate how well these units hold up in terms of durability and sound. Thanks to its military-grade design, they can take more of a beating than the RDR2500s. (We actually tested this by running one over with a car, and it still worked like new!)
As for sound, customers who operate in the most hazardous on-the-job conditions rely on the RDR4200s for their ability to offer exceptional clarity by filtering out background noise. Coal miners, oil rig workers, and chemical operators are a few of the many professions that benefit most from these units.
Important Features For All RCA Portable Two-Way Radios
While we've covered the main points for each tier above, it's worth noting some of the important features that are common to all RCA handheld units.
RadioSync
Many of your customers probably think that two-way radios only work with models from the same radio line. The fact that they don't is a great selling point for those who are interested in trying out RCA units without completely replacing their entire network.
RCA's RadioSync technology means our portables can talk with everyone else's, as long as they can access the same frequencies.
Emergency Alerts
All two-way radios should come with some kind of emergency feature. RCA's are no different, whether it's: a) an active timer for Lone Worker that sends an alert whenever a user leaves their radio idle for more than 10 minutes, or b) a general emergency alert (the orange button on RDR2500s/RDR4200s, or a programmable button on the RDR1520) that a user can manually activate when confronted with a fire, act of nature, suspicious on-site activity, or other concern.
Note: The RDR4200 series includes a built-in sensor for an additional emergency feature called Man Down. If the radio detects that it has turned horizontal, or that there is a lack of movement, it chirps and activates a one-minute timer. If its user doesn't respond in that minute, the radio sends the alert.
Would You Like To Become an RCA Reseller?
If you're not currently an official RCA dealer, we hope the reasons above will encourage you to become one. Our signup process is convenient and risk free, and will give you immediate access to available inventory. We offer volume-based discounts and other specials, and our units ship faster than any of our competitors. If you have questions about how to add us as a secondary line, please don't hesitate to give us a call at (855) 657-0090.