Do You Absolutely Need Wireless Two-Way Radios for Your Customers?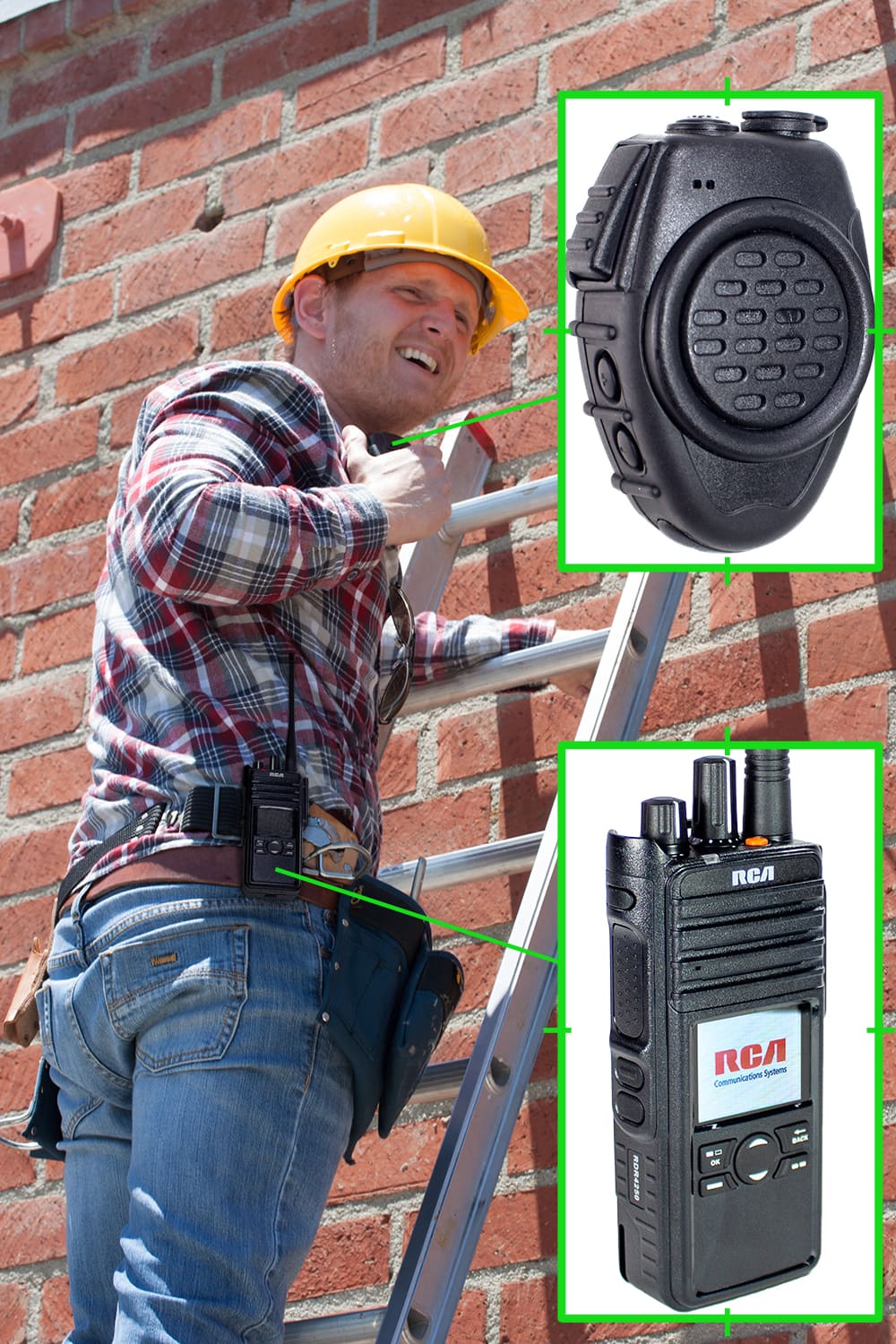 Depending on your customer base, you may be wondering whether you really need wireless two-way radios in stock. This usually depends on a couple of factors: 1) how much your customers currently know about this feature, and 2) how well you can demonstrate its benefits to those who don't. We highlight several of those benefits below, and discuss which RCA models offer this capability.
But before we jump in, we feel it's important to clarify what we mean by the term wireless. While it's true that some two-way radios out there possess the ability to connect to wireless internet in order to transmit over vast distances, the wireless we're referring to here for RCA has to do with speaker mics and earpieces — in short, think Bluetooth.
This is still a very helpful feature for those who want to operate hands-free (or practically hands-free), and who prefer fewer cords in order to do so, even if those cords are only in relation to worker uniforms.
If you want to know whether wireless two-way radios are really relevant to your end users, make sure to consider the following.
Industries
What are the circumstances and industries where customers may need wireless two-way radios? Turns out, quite a few. It's an arguably good case to buy them for any job that requires workers to have both hands free on a consistent basis. We'd say that construction teams, EMS, and law enforcement easily qualify, but they're certainly not the only ones.
Convenience
Think about how much convenience Bluetooth brings to cell phone users. It's the same for two-way radios with wireless compatibility. There's less concern about wires getting tangled, caught, or broken. It improves user mobility. Plus, speaker mics and earpieces can quickly sync to different units.
Price
If your customers are already aware of wireless two-way radios, they probably know that models enabled with this service are going to cost more than those that don't. Therefore, it's a good idea to help them weigh the benefits they'll receive against the costs they may (or may not) be willing to pay.
For example, if a customer has a lot of team members who operate in dangerous working conditions, you want them to be aware of their surroundings and not distracted by their communications equipment. They can use wireless units and accessories to stay safe and connected.
If Your Customers Need Wireless Two-Way Radios, What Are the Best Models?
RCA is already an end-user favorite when it comes to powerful two-way radios of any type. Wireless is no exception. It's no surprise that of all the models we carry, our most durable ones — the RDR4200s — have this capability.
We've talked before about how amazing these radios are (right here, in fact), and we're not the only ones who think that way. Plenty of end users agree they're the only radios they'll ever need.
Why?
For starters, they're military grade and intrinsically safe. Falls, scrapes, and environmental factors aren't going to wear these units down. They come with best-in-class battery performance for long shifts and reliability. And their coverage is unbeatable.
If that weren't enough, they cost end users 30 percent less than any competing model on the market, and are compatible with any radio line.
So Why Don't Customers Choose Wireless?
In many cases, customers who think they don't need wireless two-way radios make this decision based on preference and budget. Working completely hands-free may not be critical for their team's operations. They may also want to save on their radio purchase and opt for mid-tier models like the resoundingly popular RDR2500 instead.
Long story short: end users can have a strong communications network with or without these units. Many customers simply appreciate having the option, and have used this feature to their advantage when they did decide to purchase. Educating your end users and measuring their engagement are the best ways to learn whether it's time to order more wireless radios for your inventory.
Are You Ready To Order?
If you have additional questions about RCA wireless two-way radios, and whether they're worth adding to your inventory, we want to hear from you! Our award-winning dealer representatives are ready to learn about your customers, and help you choose the most appropriate models to meet their needs. And don't worry about the supply chain: if the models you need aren't already in stock, RCA's fulfillment times are measured in days or weeks, rather than the months-long backlogs we've seen from our competitors.
When you're ready, give us a call at 855-657-0090. You'll be glad you did.