RCA 2-Way Radio Spotlight: The RDR4200 Series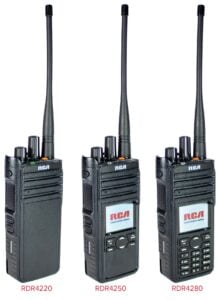 This week we are excited to feature RCA's RDR4200 series! We aren't exaggerating when we say that these are some of the most durable radios on the market today, built for the harshest on-the-job environments. They're heat and scratch resistant, made with a lightweight and rugged aluminum alloy die-cast chassis, and come with IP67 dust and water protection. But beyond that durability, there are plenty of reasons why customers love them, and why you should consider adding them to your inventory.
Why Customers Love Them
Customers rave about these radios for three key reasons: ease of use, battery life, and compatibility.
These radios are designed for workers who wear a lot of protection — especially gloves! Large volume knobs and push-to-talk buttons make them easy to operate, and invaluable for workplace safety. They come with the ability to preprogram best-in-class safety features like man down, lone worker, and emergency alert. And they can be combined with holsters and speaker mics so that workers can operate practically hands-free while remaining connected.
RCA battery life is exceptional, and these models are proof of that. Those set to digital mode see a 40 percent improvement in battery performance. That's even before considering the most recent ultra-high-capability battery upgrade, which offers an additional 28 percent — more than a full shift's worth of charge.
Customers also appreciate the fact that RCA can work with any other radio brand they may have. This gives them the flexibility of augmenting their current network without having to replace all of their legacy radios at once. The same applies if they're looking to transition from analog to digital, as RCA offers units with mixed mode capability.
Important Features
Models: The RDR4200 series offers three different models. First is the standard non-display RDR4220. Then there's the upgraded RDR4250, with its large, 1.8-inch color display and navigation keys. Last, but certainly not least, is the advanced RDR4280, which boasts a color display and full keypad.
Intrinsically Safe: Select models are certified intrinsically safe by meeting the requirements of UL 913 5th Ed., TIA 4950-A, CSA C22.2 No. 157- 92 | Class I, II, III; Division 1; Groups C-G; Division 2; Groups A-G; Temp T3C (with B4223LIIS IS Approved Battery Only) for use in hazardous locations where flammable gas, vapors, or combustible dust may be present.
Advanced Options: The RDR4200 series offers optional GPS location tracking and advanced 40-bit ARC4 type encryption for worker safety and communication security. Encrypting radios' transmissions and tracking their locations allows customers to improve their productivity and shorten any incident response times.
Improved Range: Where analog communication may be poor or impossible, the RDR4200 series shines. Select models rely on DMR digital technology, allowing transmissions to stay clear of background noise. This ensures virtually no deterioration of voice quality, and increases the usable coverage area.
Already an RCA Dealer?
If you'd like to add these radios to your inventory, we have units in stock that can ship as soon as today. Give us a call to place your next order.
Would You Like to Become an Official RCA Reseller?
Please contact us and a dealer specialist will follow up with you to learn more about you, your business, your customers, and your needs — as well as walk you through all of the necessary paperwork.
There's a reason why it's been said that the RDR4200 series is "the only radio you'll ever need." You can read more its features and technical specs here — or give us a call to talk about any questions you may have.