RCA 2-Way Radio Spotlight: The RDR2500 Series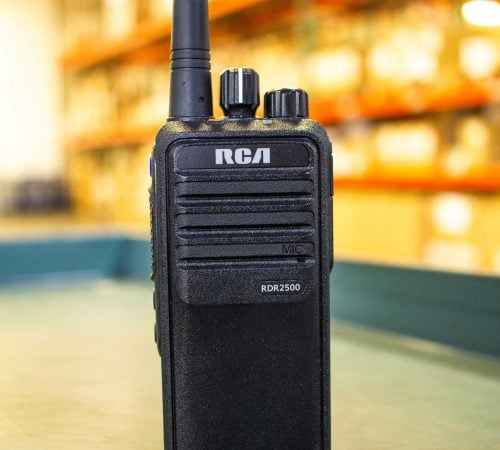 Truthfully, we'd highlight the RDR2500 series every week if we could. These are hands down our most popular two-way radios, outselling all competing models the last three months in a row! Why have they consistently been a market favorite, you ask? — coverage, durability, performance, and price point, to name a few. Read on to learn more about them, their features and specs, as well as their availability to all official RCA resellers.
Why Customers Love Them
We like to say that the RDR2500 series is perfect for those who want fast, reliable communication for a safe and productive work environment. That means having exceptional:
Coverage. Although they're technically considered mid-tier radios, customers rave about how easily they can connect over wide open spaces or through multilevel, thick-walled buildings. We're talking steel, concrete, or glass — similar to the points we made about why they're so effective for water treatment facilities.
Clarity. Customers experience crystal-clear audio thanks to RCA's X-Sound+ HDTM. For those times when surrounding noise may initially disrupt communication, RCA's earpieces and headsets can easily overcome it.
Durability. They may not be the toughest industrial two-way radios on the market, but they've got it where it counts. Their ruggedness means they can survive plenty of bumps, scratches, and falls, all due to their heavy-duty commercial housing with vibration and shock resistance.
RCA Tip: Encourage your customers to use premium-quality holsters to extend the lives of your radios and protect them against loss, falls, and theft.
Radio Line Compatibility. Customers are often surprised to hear that RCA two-way radios are compatible with any other radio line, and how it gives them flexibility when growing their fleet. The RDR2500 series' mixed mode offers similar flexibility when upgrading from analog to digital.
Affordability. We have to mention the price point. Customers love that RCA is at least 30 percent cheaper than any two-way radio competitor, while still offering the same (or greater) performance, coverage, and durability.
Important Features
Models. The RDR2500 is our standard no-display model that comes with all essential functions, including the option to preprogram any emergency alert. The upgraded RDR2550 comes equipped with a 16-character display, as well as seven (7) programmable function buttons.
Shift Performance. With a typical duty cycle, a standard 1800mAh lithium ion battery provides up to 10 hours of operation in analog, versus 14 hours in digital. Operating in digital mode, these radios can conserve up to 40 percent battery power.
Audio Compatibility. If your customers are upgrading from existing two-prong accessory connectors for mics, earpieces, or headsets, these radios will still work with them.
Warranty. All units are backed by a manufacturer's hassle-free, two-year warranty.
Availability
In spite of the supply chain issues we've all been hearing about, RCA is proud to say that it still has plenty of RDR2500s and RDR2550s in stock and ready to ship — even as early as today. If you're looking for inventory, we've got the units you need.
Already an RCA Dealer?
You can place your next order either over the phone or through our convenient dealer portal.
Would You Like to Become an Official RCA Reseller?
The RDR2500 series of two-way radios can easily complement what you already do well and help you grow your sales margins even further. Signing up as an official RCA reseller is easy and risk free. In a matter of minutes, you'll have the same access mentioned above: the ability to place your next order through our dealer portal, as well as review other important information like pricing, brochures, spec sheets, programming software, and invoices. Give us a call at 855-657-0090 to get started.