RCA Two-Way Radios Tapped for Massive University Expansion Project

RCA two-way radios were chosen to be apart of the University of the California at Merced (UCM) huge expansion project that will add 1.2 million square feet of space, nearly doubling the overall campus size and drastically adding space for teaching, housing and research. The $1.3 million expansion started four years ago and is expected to be completed in the third quarter of 2020. Called the Merced 2020 Project, the expansion will include three new teaching and research lab buildings, 1,700 new beds for on-campus housing, 1,500 new parking spaces, a student wellness center, and the expansion of the university's childhood education center.
This project will also add a new entrance to campus and transit hub to improve student circulation. Students will have new dining options, too, as well as a conference center for community and campus events, and NCAA-II class outdoor athletic and recreation fields and a pool.
Needless to say, this job required significant two-way radio communications, so the University turned to Cupertino Electric Inc. to handle the heavy electrical construction work.
The Client:
Cupertino Electric Inc. (CEI) is an electrical engineering and construction firm that is one of the largest specialty contractors in the U.S. Headquartered in San Jose, CA, CEI designs, procures, constructs, installs, commissions and maintains complex electrical systems for commercial clients in a variety of industries, including renewable, utility and data center. In addition, they are noted for creating electrical systems for some of the world's most well-known structures and world-class locations like the headquarter campuses of Google, eBay, and LinkedIn, and world class destinations as Los Angeles Dodger Stadium, Los Angeles International Airport, and the Oracle Park in San Francisco.
UCM charged CEI with spearheading the electrical work for all of the electrical configurations for the university's central plant complex. The complex consists of three structures: a telecommunications hub, a two-story thermal energy storage tank, and a three-story plant that houses most of the university's power and infrastructure operations. The job required multiple crews of more than 200 workers who had to traverse the nearly 3 square miles of terrain. Whether installing conduit raceways, pulling miles of cable, designing circuit switchers and connecting load interrupters, having crystal clear communication and mobility were critical. In addition, it is not uncommon for the CEI crew to be working around 60 kV (6,000 Volts) of electricity.
Specifically, CEI was responsible for installing the following systems:
Turnkey responsibility for telecommunications and audio-visual work
Installation of incoming 12kV
Installation of a 1 MW generator
Installation of full SCADA/CCMS controls systems
Pre-wiring lab benches; and
Installation of general lighting control with day lighting in open office areas and new DLM controls in private offices
CEI turned to RCA Communications System for the necessary equipment.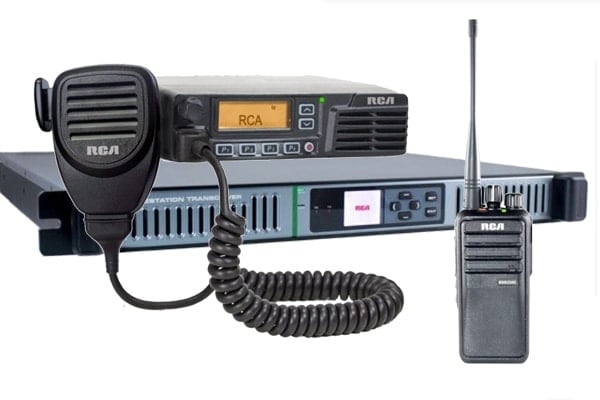 The Solution is RCA Two-Way Radios
RCA Communications recommended the perfect communication combination which included mobile radios and a easy to manage repeater system. The package included:
The RCA RDR9000 Repeater – Super compact design that takes 30 percent less space that other repeater systems. Also, it has a highly durable, military design that provides up to 50 Watts of power.
BRM Digital Mobile Radios – Compact, versatile and cost-effective, and completely compatible with Motorola. Plus with the potential for 50 watts of power output, this mobile provides optimal communication range.
RDR2500 Portable Radios
– For businesses and professionals who require cost-effective, reliable and easy-to-use radios, the RDR2500 two-way radio provides the best value on the market. Perfect solution for creating a safer and more productive work environment.